(Case #56)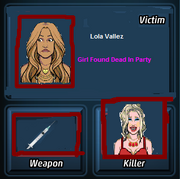 The police commissioner is baffled of the death of Lola valchez
Lola Vallez (Girl Found with syringes on her mouth, Has blood loss
Murder Weapon
Edit
Suspect

  

Edit
Madison Springer

Zack Holden

Howard Johnson (Adam Bentley Killers)

Kerry Ann Buxton                             
Killer's Profile
Edit
 The killer has this blood type.
The killer wears heels.

The killer is a baseball fan.

The killer is female.

The killer takes medication.
*
Ad blocker interference detected!
Wikia is a free-to-use site that makes money from advertising. We have a modified experience for viewers using ad blockers

Wikia is not accessible if you've made further modifications. Remove the custom ad blocker rule(s) and the page will load as expected.