Tea And Egg Murder is the case Case # 60).
Patner:Jones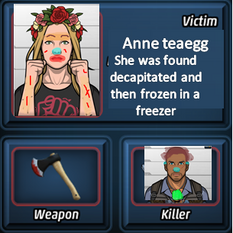 Chapter: 5 Chapters
The victim was a protester leader named Anne Teaegg He was found decapitated and then frozen in a refrigerator
The killer was a leader of Chaos named Percy Lamacov Russian name Перси Lamacov
Percy was a psychopath who wanted to kill someone Well when it came Tea Egg Anne beheaded and placed in a refrigerator
The judge could not believe he has accomplished scare court Percy said it was Lamacov ge and the judge can not stand and sentenced to life without parole
Anne Teaegg She was found Decapitated and then frozen in a freezer
Axe
Percy Lamacov
.The killer wears flip-flops.
.The killer uses detergent.
.The killer plays Tetris.
.The killer has frostbite.
.The killer is male.
Ad blocker interference detected!
Wikia is a free-to-use site that makes money from advertising. We have a modified experience for viewers using ad blockers

Wikia is not accessible if you've made further modifications. Remove the custom ad blocker rule(s) and the page will load as expected.