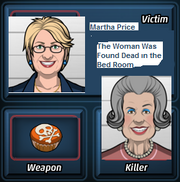 Maple Heights 
Case: 50
Murder Weapon
Edit
Serena Johnson 
Adam Bentley
Alden Greene:ALden Plays Tennis.
Serena Johnson: Mayor Mother. A+ Has Read the Prince and Play Tennis. And Uses Sunscreen.
Adam Bentley: Serial Killer (Sociallife) A+ Blood  ---+-
Tony Marocni: Singer Marconi plays Tennis.
Madison Springer: Friend net Madison Holden Plays Tennis and  Sunscreen.
Killer Profile
Edit
Killer 

has read 

The Prince

.

Killer Plays Tennis.

 

Killer 

uses sunscreen.

Killer A+ Blood.

 Killer Female.
Ad blocker interference detected!
Wikia is a free-to-use site that makes money from advertising. We have a modified experience for viewers using ad blockers

Wikia is not accessible if you've made further modifications. Remove the custom ad blocker rule(s) and the page will load as expected.